August 1, 2012
I've awaited the unveiling of Hartmann&Forbes' first wallcovering collection with great anticipation. Anxious to learn more from one of the collection's creators, I contacted Rebecca Welch, Director of Product Development and Merchandising, whose job I might add, sounds like a dream. After a decade of producing their distinguished line of window covering products, it seems only natural that their knowledge and resources translate well into a wallcovering collection. I want to begin by congratulating the entire team at Hartmann&Forbes on a job well done; and when you congratulate the "team" at Hartmann&Forbes, realize that your sentiments reach beyond the walls of their Oregon headquarters to a global group of skilled craftsman located all over the world.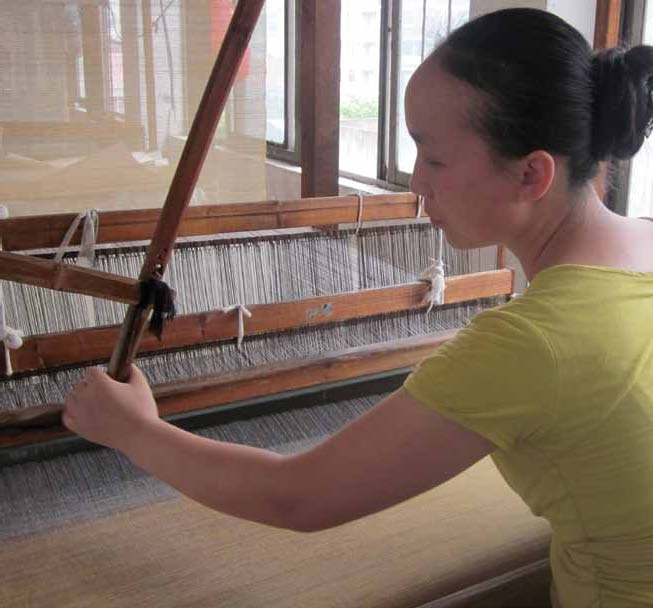 At first glance you will see the beauty of the product, but I think it's important to understand the beauty of their
process
. Rebecca's explanation gave me a better understanding of the pride Hartmann&Forbes must feel working with these talented artisans, enabling them to continue a time-honored tradition.
"What is wonderful about the hand weaving is that it has been passed down from one generation to another. The weavers (both men and women) actually learn to weave from a family member, or they go to weaving training schools. They can either weave in a facility or some actually purchase their own looms allowing them to weave at home while caring for their children. The looms are beautiful and made out of the local raw materials"
Hartmann&Forbes' expertise at designing and dying fibers paired with an extensive range of weaving techniques has resulted in a stunning first foray into wallcoverings. The premier collection is aptly named
Americana
, taking inspiration from this country's land, its people and rich history. Rebecca shed light on how they developed the designs and what sets them apart.
"This collection took six to eight months to develop by traveling and being inspired by a so many of the famous and beautiful places in the United States. We wanted the line to be diverse, to compliment many different styles."
With five and a half years of experience at Hartmann&Forbes (22 in the design industry), you might say Rebecca speaks natural fiber fluently and while her expertise gave her an excellent foundation, a wallcovering line came with its own set of challenges, requiring innovative techniques to create designs that would be unique to the market. "What is very unique to this line is the ability to layer designs," she explained. "For example, in the District collection we were able create a stripe that is diffused by layering abaca on the top. The abaca is hand placed on top of the pattern on each roll."

See below for a glimpse at all nine patterns from the Americana Collection.
Latest posts by Emily Faber
(see all)