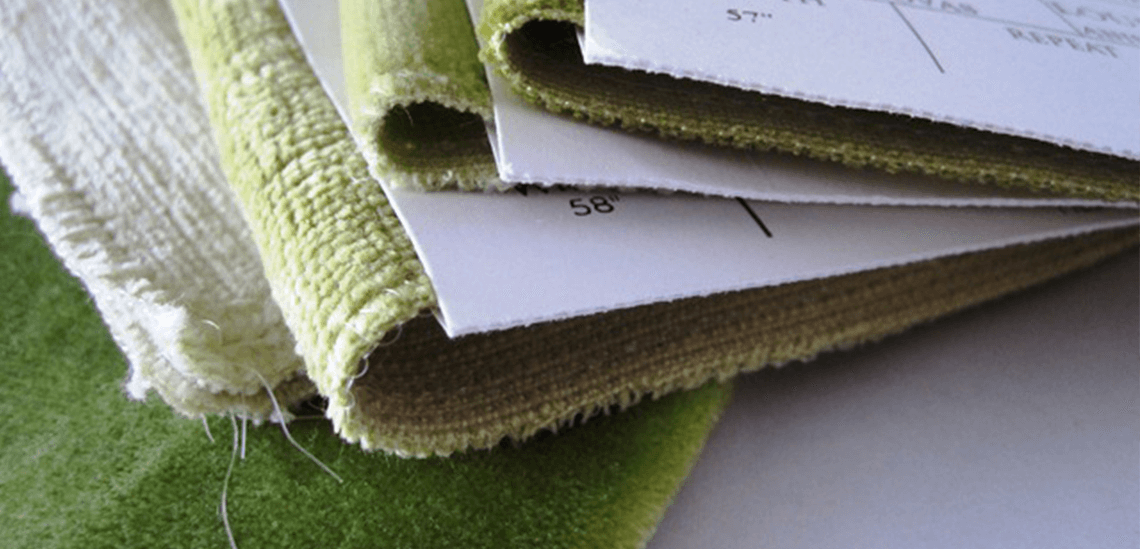 November 14, 2012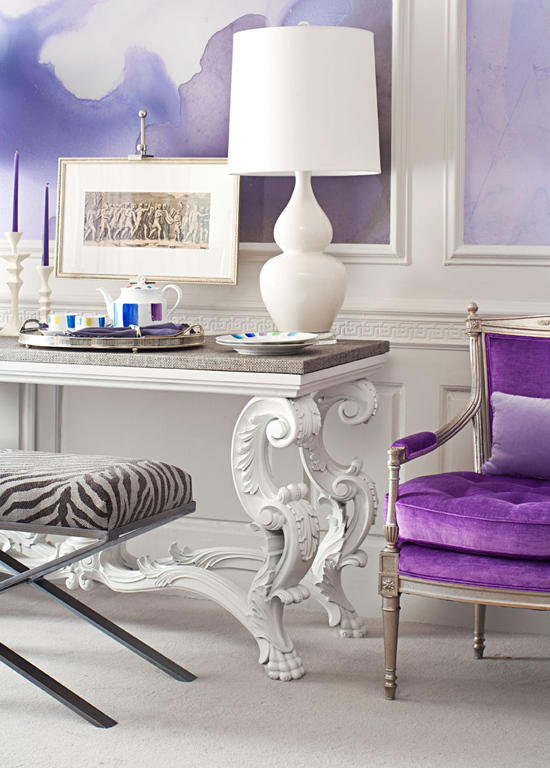 Chair fabric, an example of a viscose velvet, Semper in Violet by Zinc (Romo). Pillow fabric, a cotton velvet, Versailles by Kravet. Room design by Eileen Kathryn Boyd for the 2012 Holiday House Designer Showcase.
Suitable for upholstery as well as drapery, and even commercial applications, velvet in its many variations is an extremely versatile fabric. Depending on its content, from the high sheen and soft hand of a silk velvet, to a cozy, casual cotton velvet, it's important to choose carefully. You might begin by considering the characteristics of velvets made of natural versus synthetic fibers.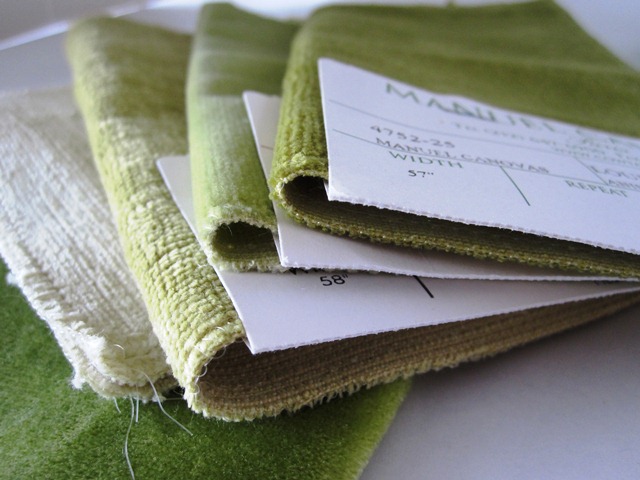 A variety of velvets from KDR's textile department.
What are your client's expectations or preferences? It is important that your clients understand, should they choose a velvet made from silk, cotton, linen or other natural fibers, that it will show wrinkles, pressure marks and creases. As people have been doing for centuries, they will live with, and love these imperfections that are the inherent beauty of nautral fiber velvets. If your client is looking for a velvet that shows less wear, looking nearly new as years pass, a synthetic velvet is a more suitable choice.
An up-close look a several velvet variations…

Polidoro (silk) from Manuel Canovas, 2088/29 (viscose) from Villa Romo, Louis (polyester) from Manuel Canovas.

Saga (cotton) by Zimmer+Rohde, Luxor (polyester) by Larsen, 1-3094-091 (linen) by JAB.
Velvets made from natural fibers will take dye beautifully, however it is important to know that dye lots will have more variation in velvets made from natural fibers versus synthetic.
While most velvets will contain instructions for professional cleaning, this is an absolute with natural fibers.
Should you select a directional velvet, be aware of the direction and how it will be applied.
Linen velvet tends to have a matte finish. It will have a dry hand to the touch and often has a a shorter nap.
Cotton velvets can vary widely in the length of their nap and will not have a high sheen. As with other natural fibers, cotton velvets will show wrinkles, creases and wear.
Silk velvets are best suited for lighter traffic areas. The high sheen delivers a formal, luxurious feel and will also yield more visible pressure marks and creases. Consider the reflective quality of silk velvets; you will notice a broad color range depending on surrounding light.
Created in 1891 in an effort to mimic silk, you can expect that a viscose velvet will have a similar feel, or softness as silk, it will typically have the sheen of a silk.
A synthetic option, high quality polyester velvets are an excellent choice for the client wanting a velvet that shows little wear. Polyester velvet will be more resilient to fading from sun and will have less variation from one dye lot to another. These are widely used in hospitality settings.
Don't shy away from velvet for window coverings; if weight is your concern, simply consult with our window covering department for the appropriate mounting hardware.
By no means is this a definitive list of choices, but it should provide you with a few simple guidelines when considering the timeless, luxurious appeal of velvet.
Latest posts by Emily Faber
(see all)