February 19, 2014
There has been a chill in the air, and most of us can't wait to see it go. But it seems fitting given the daily dose of skiing, bobsledding and ice skating that greets us each day on television. Watching the 2014 Winter Olympics over the past two weeks has prompted a post inspired by snowy winter whites and the shimmer of ice. Something most of you have seen all too much of this year. With the promise of spring upon us, and exciting new furniture and fabric intros coming our way, we bring you what we hope to be one last wintery mix.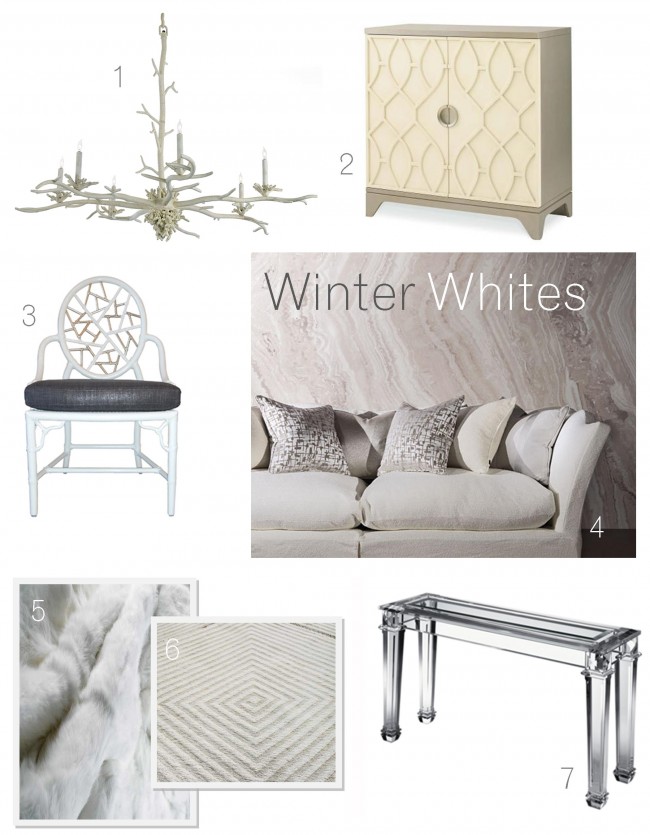 1. Grand Tour Chandelier, Century Furniture.  |  2. Paragon Door Chest, Century Furniture.  |  3. Limited Edition Cracked Ice™ Chair, McGuire Furniture.  |  4.  Marbelous Panel Perlato Digitally Printed Wallcovering, Zinc Textile.  |  5. Lapin Rabbit Skin Rug, Yerra.  |  6. Maze Cowhide Rug, Yerra.  |  7. Edinburgh Console, Spectrum Limited Collection.
For more information on the furniture, wallcoverings or rugs seen above, contact your local KDR showroom.
Until next time…
Emily
Latest posts by Emily Faber
(see all)