December 21, 2012
As the shimmer of gold is sure to have caught your eye in recent months, the same holds true
for our KDR team. I've managed to steal a few moments from Karen, Lacy, Amy, Kara and Kelly
to learn what gilded goods have them taking note now, in the heart of this holiday season.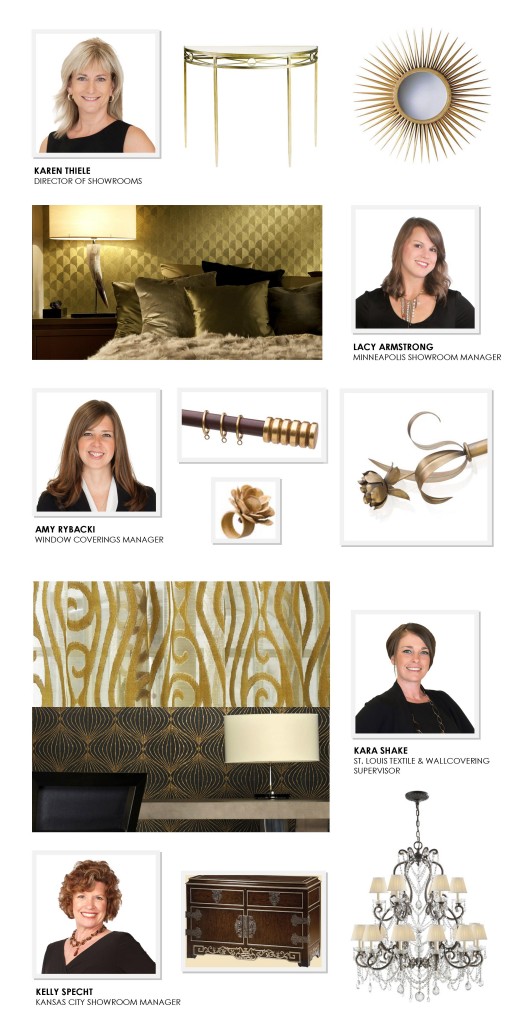 KAREN THIELE | Oculus Demilune from Salvations AF, Sunburst Mirror in Gold (No. 7013D) from Baker.  LACY ARMSTRONG | 49104 Scale from the Heliodor Wallcovering Collection by Arte.  AMY RYBACKI | Clockwise from top, Rock Finial and Swing Rings in Antique Gold Leaf, Viola Finial in Urban Bronze, Rosaline Medallion on a metal band, all from Paris Texas Hardware.  KARA SHAKE | Music Hall by Ardecora from Zimmer + Rohde, 38050 Lyra from the Noctis Wallcovering Collection by Arte.  KELLY SPECHT | Yorkshire Manor TV Console from Marge Carson, Adrianna Medium Chandelier in Antique Gold from Ralph Lauren Home.
Warmest wishes to you and yours this holiday season.
Until next time…
Emily
Latest posts by Emily Faber
(see all)