October 5, 2013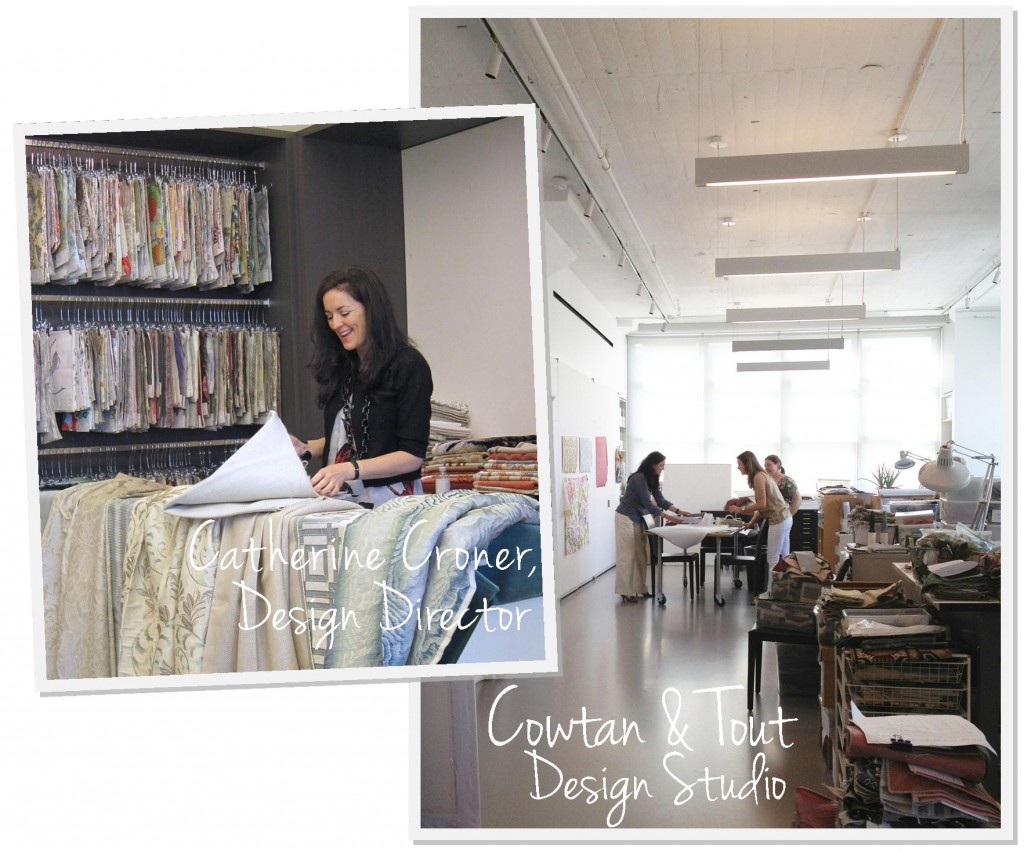 Several months ago, while in New York for Blogfest 2013, I had the opportunity to visit the offices of Cowtan & Tout, finally putting faces with names after years of e-mailing. My visit included a tour of the design studio where, season after season, new collections are created.
Design Director for Cowtan & Tout, Catherine Croner, shared a glimpse of the new Fall 2013 Collection, which has since launched and has arrived in your local showroom.  Catherine has been generous enough to answer several questions, shedding light on her professional background, her inspiration for the new collection's pattern and palette and her insight on the growing demand for wide-width sheers. And when asked to reveal her personal favorite from the collection, though ever-changing, she did admit to one—for today at least.

Can you share a brief overview of your background with Cowtan & Tout and within the industry?
My training is in fine art as a painter and printmaker. My first professional exposure to the world of decorative design was working in New York as a decorative painter and muralist, often mixing paint colors to match fabric memo-samples, until my curiosity about the fascinating color inspiration brought me to the decorative textile industry and eventually Cowtan & Tout in 1992. I became Design Director in 1997 and oversee the development of the fabric, wallpaper and trimming collections for the Cowtan & Tout brand.
As its creator, if you had to describe the fall collection in a few words…
The Cowtan & Tout Fall 2013 Collection is luxurious, elegant and timeless…
This is in keeping with our core collection and follows our overall focus on quality and elegance. Invariably we stand apart offering the highest quality fibers and materials, engaging color palette and unique design options to the professional decorator.
Everyone wonders what inspires textile collections, but to be more specific…was there one thing, one place, one archived print…something that served as a single jumping off point when you began this collection?
We are continually inspired by great, iconic interior decoration and historic decorative arts of all kinds—not limited to textiles. Our challenge is to translate these ideas into wonderful fabric designs that have resonance with past traditions, but are relevant for interior design today. We are deeply committed to creating the material elements that will inspire great design work. It's true that in our research, we are regularly looking at archival designs, using them as a starting point. One such design in this collection is LA PAGODE CHINE, which is based on an 18th Century Chinese hand painted silk from our archive. We adapted this design for digital printing on a cotton sateen.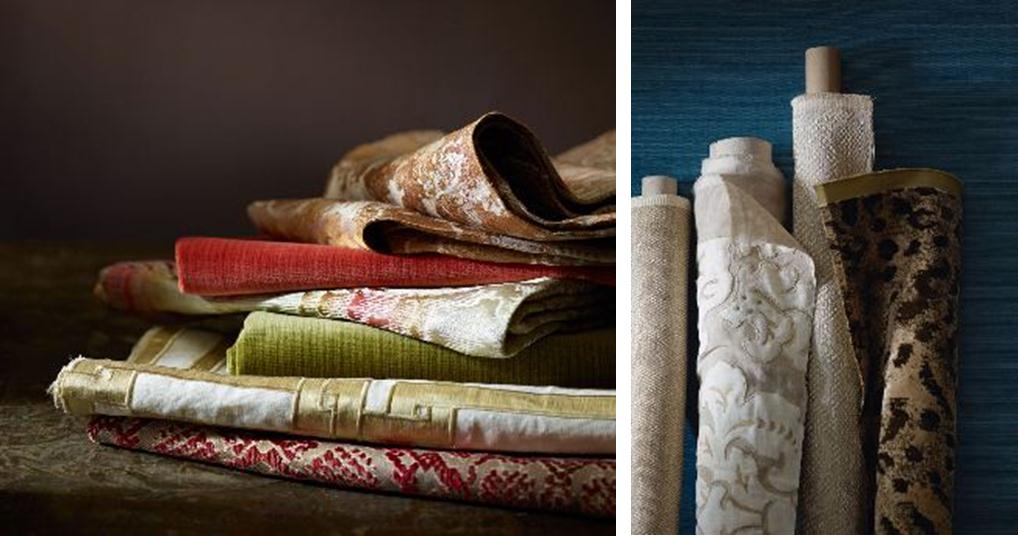 What informed the palette/what sets it apart from past collections? It seems bit darker, moodier than collections past, very luxurious.
Colorful could be a descriptive term for this collection as well, expressing our interest in  expanding and deepening the saturation of the hues in our palette. Continuing to talk about LA PAGODE CHINE…For color, we looked at hand painted porcelain from a similar period as the hand painted silk, then we made color sketches of 'LA PAGODE' applying the porcelain colors we researched to the print design. These color sketches became the basis for the palette of the collection, expanding into the rich and saturated colors we eventually arrived at: Prussian blue, deep jade and teals, soft dusty corals and gingers, silver gray and maize yellow. By imagining the atmosphere of an 18th Century room, with its mirrors and reflected light, we were inspired further to find ways to introduce luster in a subtle way. We approached this by mixing silk with linen, 'breaking up' the rendering of a design, distressing its surface so the luster of the silk is tempered by the mix of linen that is more apparent on the surface of the cloth.
Did you explore any new or unusual construction techniques in the collection?
In fact we took a look at traditional techniques—like for example ombre (shading of the color of the warp threads), and like moiré ('water' marked silk)—more for their inspiration value than actual technical points. In Hawthorne we reinterpreted these ideas pairing the graphic of a moiré with an interpretation of an ombre effect—actually a subtly shaded striped silk warp—the end result feeling fresh and modern, while having the integrity of a classic quality.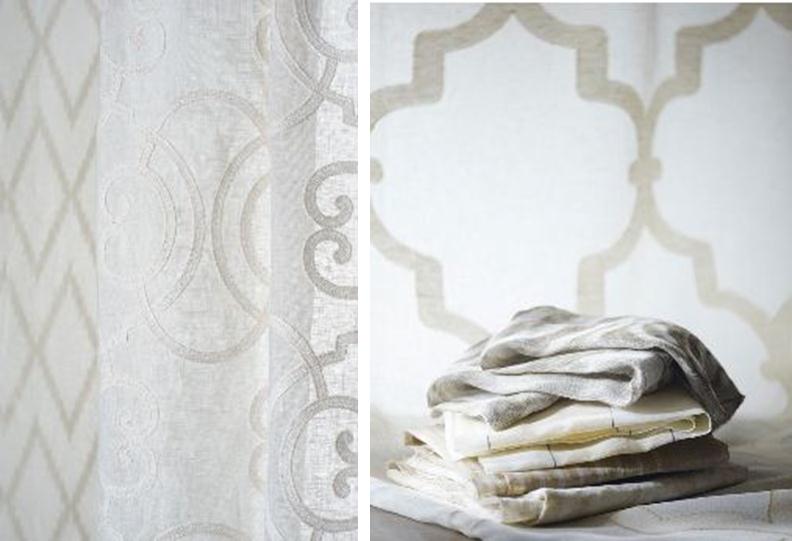 The collection seems to include more wide-width sheers than in collections past; are you seeing a growing demand, what drove the decision to offer a larger selection? The sheer designs feel a bit more transitional—an answer to the continued popularity of classic, graphic patterns?
Designers continue to want softness around the window as well a filter for natural light. We have found that some designers would prefer not to have the fussiness of full blown layered window treatment, so we approached the idea of the 'under curtain' as though it would be the top or finished layer. The wide-width 'sheers' we've introduced—mostly linen based fabrics that are a bit more decorative with varying densities—have hit the mark, offering a clean and tailored alternative to layered treatments with the convenience of double width which eliminates much of the seaming.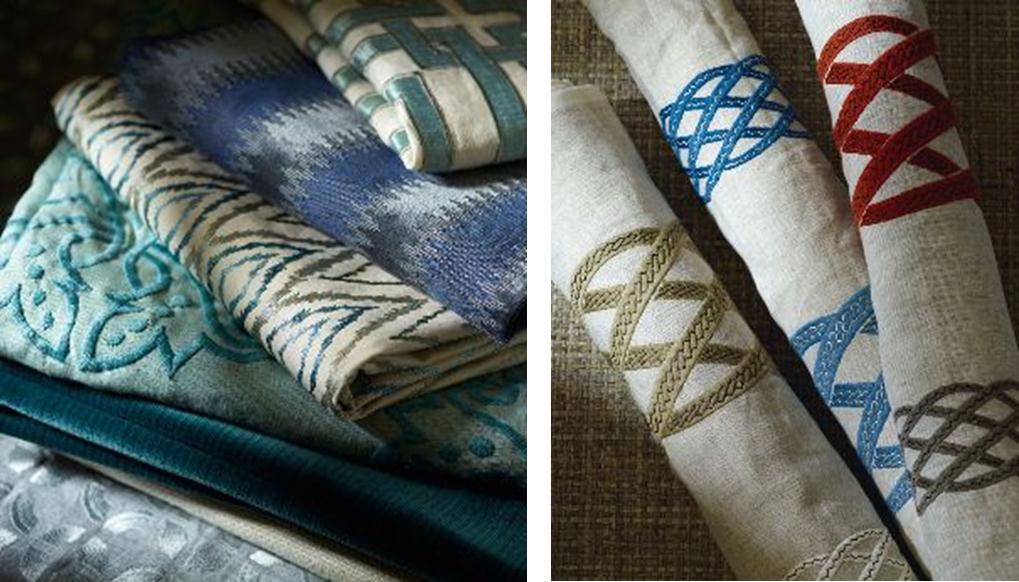 Your embroideries feature a lot of graphic pattern as well—do you care to share what inspired any of the specific patterns?
This group of graphic patterned embroideries combines a classic motif with a modern and fresh perspective. In putting the collection together, at times it is important to give impact to a certain category, or group of product by focusing or narrowing the aesthetic. Keeping in mind that each collection is just one chapter in a larger story, it was easy for me to say lets keep all the patterns geometric and clean-lined as we already have so many classic, floral or leafy embroideries in the larger collection. This choice seemed the right decision for making an impact, telling the story we wanted, and offering a bit of a contemporary foil to some of our more classic designs.
I can't help but ask, do you have a favorite in this collection?
This is almost impossible to answer because all our designs are special for one reason or another—some are loved because they are the perfect pairing of pattern and quality of material. For others the design development process presented a particular challenge that was rewarding to overcome…But if I were to choose one favorite—today—it would be Hawthorne our beautiful silk Jacquard in a stylized moiré pattern on a subtly striped silk warp. It is at once classic and modern—which for me, makes it timeless.
Clockwise from left: Hawthorne in Teal, Sage, Coral and Topaz.
All images courtesy of Cowtan & Tout.
I am so grateful for Catherine's time and willingness to share.
I hope you've enjoyed my journey inside the Cowtan & Tout design studio.
Until next time…
Emily
Latest posts by Emily Faber
(see all)