January 27, 2014
Over the past several years the beloved British drama, Downton Abbey, has captured our hearts and imaginations. Every Sunday we're transported, happily, to another place and time. And there's no reason the elegance of Highclere Castle need escape us at the end of each season, or dare I say it, the end of the series. Special moments with a hint of formality, perhaps a nod to the past, can easily find their way into our own homes. It's not reproductions I speak of, but unique creations by modern-day design directors, artists and artisans that echo the glamour of bygone eras with a fresh perspective.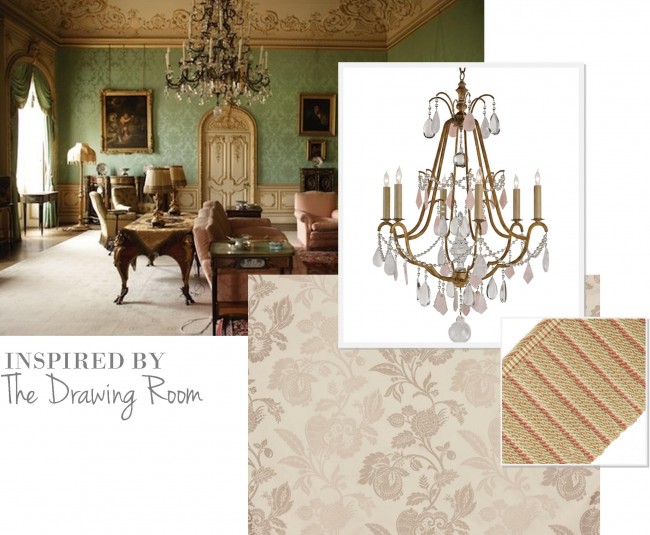 ABOVE: While we can't argue with anyone's choice of a traditional damask wallcovering, Romo provides a thoughtful take on a traditional pattern by creating vertical striped florals in alternating shades of light and dark with Venetia String. Taking a slightly streamlined approach to the crystal chandelier, Currey & Company's Fairytale Chandelier combines wrought iron and crystal with an opulent Italian Gold Leaf finish. Incorporating Downton's signature soft pistachio wall color with the subtle peach of the room's upholstery, Samuel & Sons Passementerie marries the two in their French Bullion Fringe.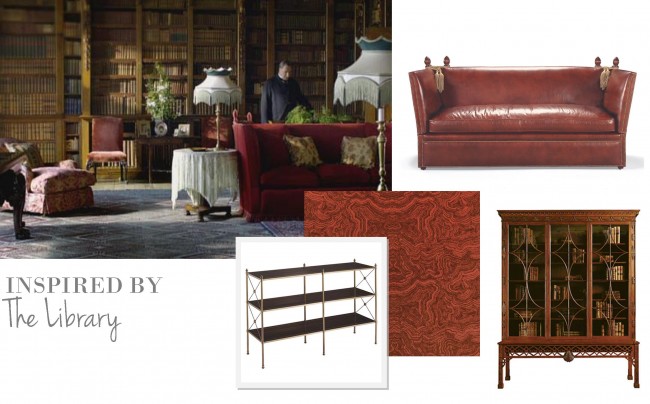 ABOVE: If your home is lacking a library, a collection favorite titles can find a home in Baker Furniture's smaller, but equally elegant Edwardian Brass Bookshelf. For a more extensive collection, consider the Irish Chinese Chippendale Mahogany Cabinet, also from Baker. Comfort and dramatic styling meet within the confines of the Knole Sofa by Edward Ferrell + Lewis Mittman. Bring in the warmth and luxury of a plush velvet with the organic-patterned Malachite from Cowtan & Tout.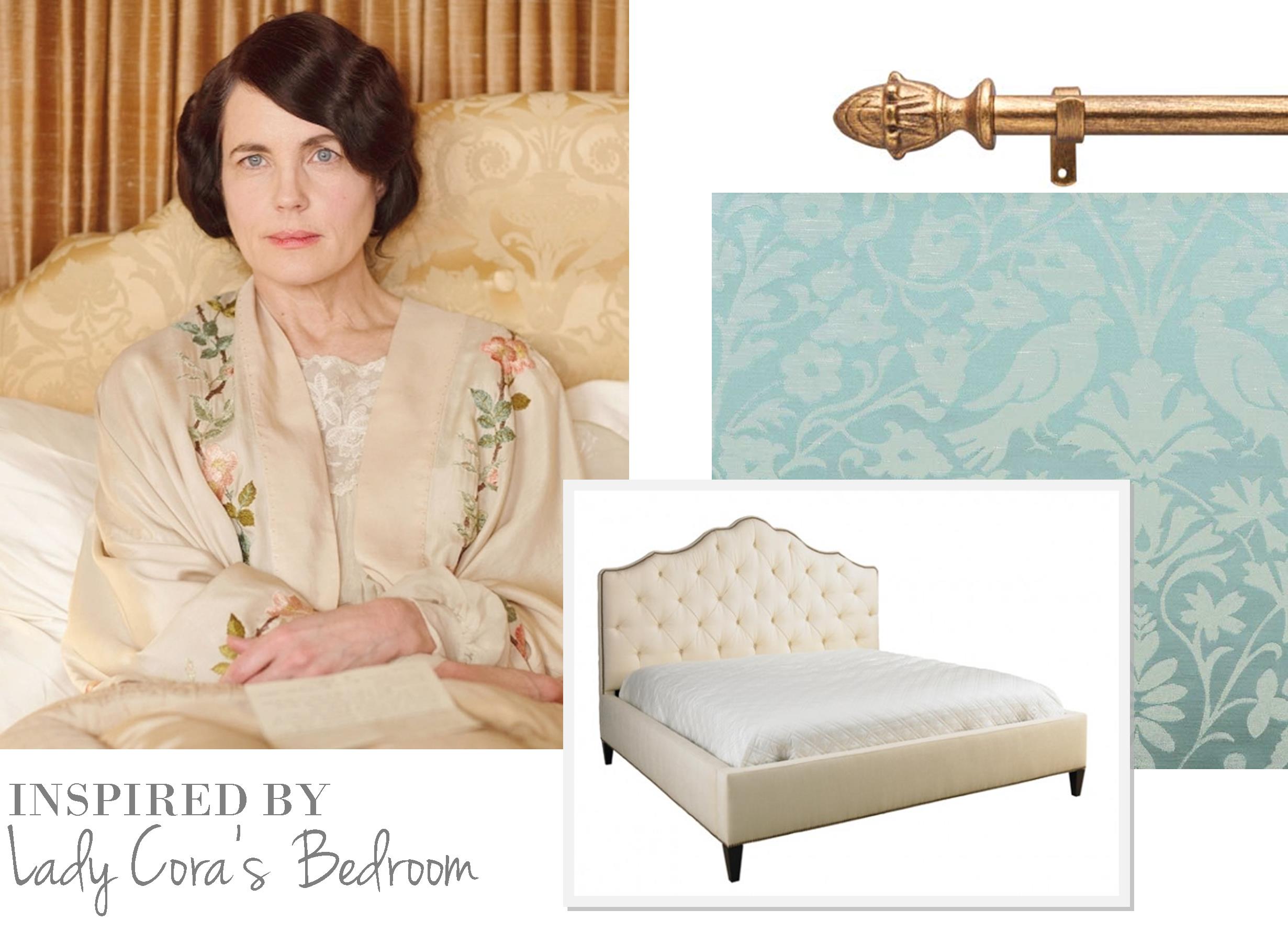 ABOVE: Serving as a retreat from the formality of her time, Lady Cora's bedroom offers a comforting escape with a feminine touch. Bring gentle curves and tufting into your own bedroom retreat with the Fairholm King Upholstered Bed from the Mr. and Mrs. Howard Collection for Sherrill. Audubon by Highland Court provides a subtle shimmer and traditional patterning with a whimsical addition of birds throughout. No doubt gold hardware from The Finial Company can provide the finishing touch.

If  you live in St. Louis or plan to visit soon, mark your calendar for February 27th. Guests of the St. Louis Art Museum's "Art in Bloom" opening reception will have a chance to meet Judith Farr, set designer for Downton Abbey, at an elegant cocktail reception followed by a seated dinner. For more information or to purchase tickets by phone, please call 314.655.5381.
For more information on the furniture, fabric and drapery hardware seen above, contact your local showroom.
Photo Credits: Cowtan & Tout, Currey & Company, Samuel & Sons, Baker Furniture, Sherrill Furniture, Highland Court, Romo, The Finial Company, Edward Ferrell + Lewis Mittman and PBS.org.

Until next time…
Emily

Latest posts by Emily Faber
(see all)