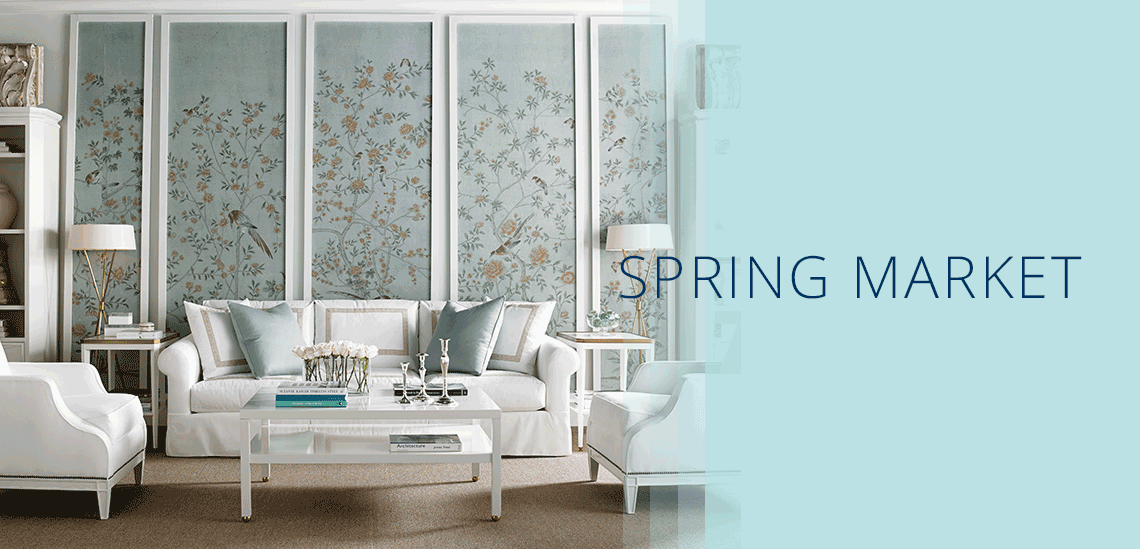 March 27, 2018

If you attended our recent Spring Market events, we're confident you noticed the changes to our semi-annual event. Gone are the days of tradeshow-style tabletops. The refreshed format offered a personalized experience between trade professionals, the  products and manufacturing experts. Keep reading for a list of top event highlights in the market recap with Spring Market 2018 giveaway winners.
---
Spring Market By The Numbers
.


3  SHOWROOM EVENTS

38  BRANDS PRESENTED
Product categories spanning from furniture, fabrics, trimming and lighting to drapery hardware, wallcoverings and more; we covered it all from chandelier to floor.
24  PRODUCTS EXPERTS

Trade professionals met one-on-one with manufacturer representatives from more than 30+ brands of furnishings, fabrics and textiles, wallcoverings, trimmings, drapery hardware and window coverings to learn about the latest introductions and product design innovations.
3  NEW FURNITURE LINES LAUNCHED
The official launch event to introduce the newest additions to our showrooms' furniture lines. The newest brands included Hickory Chair and Pearson to the Kansas City and St. Louis showrooms and Henredon in Minneapolis.
200+  ATTENDEES
100+  STAMPED PASSPORTS
$1200 IN GIVEAWAY PRIZES
3  GIVEAWAY WINNERS


.



---
Spring Market Giveaway Winners
Congratulations to our Spring Market 2018 winners! The recipients received a gift card valued at $400; St. Louis and Minneapolis winners received a gift card to Neiman Marcus and the Kansas City winner, a gift to Halls Kansas City.
St. Louis showroom winner:
Tina Wolff, Wolff Interiors
Minneapolis showroom winner:
Eric Kaufman, Bruce Kading Interior Design
Kansas City showroom winner:
Erin McKenna, Erin McKenna Design


.

Winners pictured left to right: Eric Kaufman, Tina Wolff and Erin McKenna.


.



Make sure to you're on our invitation list. Subscribe here to receive email updates about future showroom events directly in your inbox.
Save the date! Fall Market 2018
St. Louis showroom  |  Tuesday, September 25, 2018
Kansas City showroom  |  Thursday, September 27, 2018
Minneapolis showroom  |  Thursday, September 27, 2018
Director of Marketing
at
KDR Designer Showrooms
Latest posts by Amanda Bauer (see all)