October 1, 2012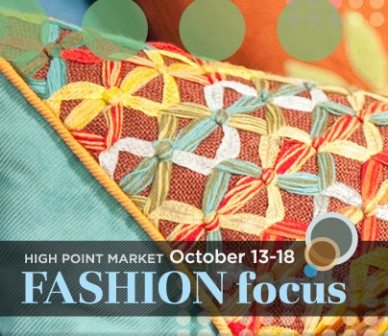 It's hard to believe that fall has officially arrived and as we (hopefully) usher in cooler temps we excitedly await the parade of fresh product about to be unveiled October 13 – 18 at High Point Market.
If you'll be attending this year, watch for our showroom director Karen Thiele and our merchandising consultant Marc Roberts—as always, searching for new showroom product.
For those of us enjoying Market from the comfort of a cozy chair via laptop, make sure you Follow the 2012 Fall Style Spotters on Pinterest and save the date for KDR's Fall Market Events taking place in November at all three showrooms.
Looks like we'll be seeing more geometrics and metallics this fall, and from our friends at DwellStudio and Baker, I've been told that a lot of attention has been paid to sofas, sectionals and loveseats. Have a look…
DwellStudio seen a great deal of interest with KDR customers this year and they were happy to share the following about what we can expect to see at Market.

This market, we have focused on personality sofas in the DwellStudio collection. Look for tufting, channeling, and bold shapes this season. We've added great new textured fabrics that will blend seamlessly with the unmistakable DwellStudio style. In the occasional offering we've introduced mirror accented furniture that is sure to make a statement.

And from our friends at Baker; I've been told that we'll see a focus on sectionals and loveseats at a lower price point with the same quality we expect from Baker upholstery. I've also been a told that a surprise awaits in the form of an exciting new collection. Designs from the 50's, 60's and 70's have been pulled from the archives and given a fresh new face. As a lover of all things classic, I'll be waiting, smartphone-in-hand for the first glimpse via Karen and Marc. I'll be sure to share!

In the meantime, mark your calendars for the KDR Fall Market Event near you. Watch for your invitation in the mail and follow us on Facebook for event details.

ST. LOUIS | November 7
KANSAS CITY | November 9
MINNEAPOLIS | November 15

Until next time…

Emily
Latest posts by Emily Faber
(see all)