March 9, 2012
Just over two years ago KDR began the familiar practice of considering a new product line—an addition to our window covering department. As you can imagine, the process takes into account a bevy of factors. We strive to bring products that are unique to the market, giving designers access to exclusive resources. It didn't take a second glance at Hartmann&Forbes to know that our customers would appreciate the fashion-forward thinking behind this standout line of natural window coverings (available through our St. Louis and Kansas City showrooms).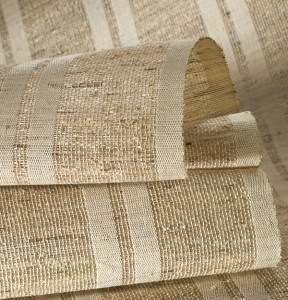 Delving deeper into the story behind  Hartmann&Forbes revealed not only a company dedicated to extraordinary designs handcrafted from innovative materials, but  a respect for the environment and cultures around the world. The staff at Hartmann&Forbes, made up of fashion designers, painters, gardeners, environmentalists, seamstresses and sculptors brings a unique perspective to product development process.
After months spent gathering ideas and inspiration from nature, the team at Hartmann&Forbes has just unveiled five new weaves (seen pictured above and at left) as part of their woven-to-size Liniedge Collection. Reminiscent of serene tropical beaches, the new weaves feature an infusion of filament fibers and warp patterns. The roman shades, roller shades and draperies feature loom-finished edges and are available up to 158" without seams.
Memo samples of the five new weaves are available through the St. Louis and Kansas City showrooms or by contacting your KDR Window Covering Sales Representative Chris Paz.
St. Louis Showroom | 314.993.5020
Kansas City Showroom | 913.859.0400
Chris Paz | chrisp@kdrshowrooms.com | 314.249.9277
Latest posts by Emily Faber
(see all)