January 3, 2013
As we usher in 2013, we welcome the parade of predictions from editors, bloggers, designers and a long list of industry insiders. Unless you've been hibernating this winter, you've already been hit with a barrage of Emerald, the Pantone pick of the year, and a moody, regal palette of purples ranging from deep violet to soft amethyst. A sea of vibrant blue is at the forefront of both fashion and home venues while brushed bronze and gold continue to pick up momentum. Expect pops of color and pop culture to play a part. I've mixed a bit of new product with some of my current non-interior obsessions below. Hope you enjoy, and best wishes for a Happy New Year.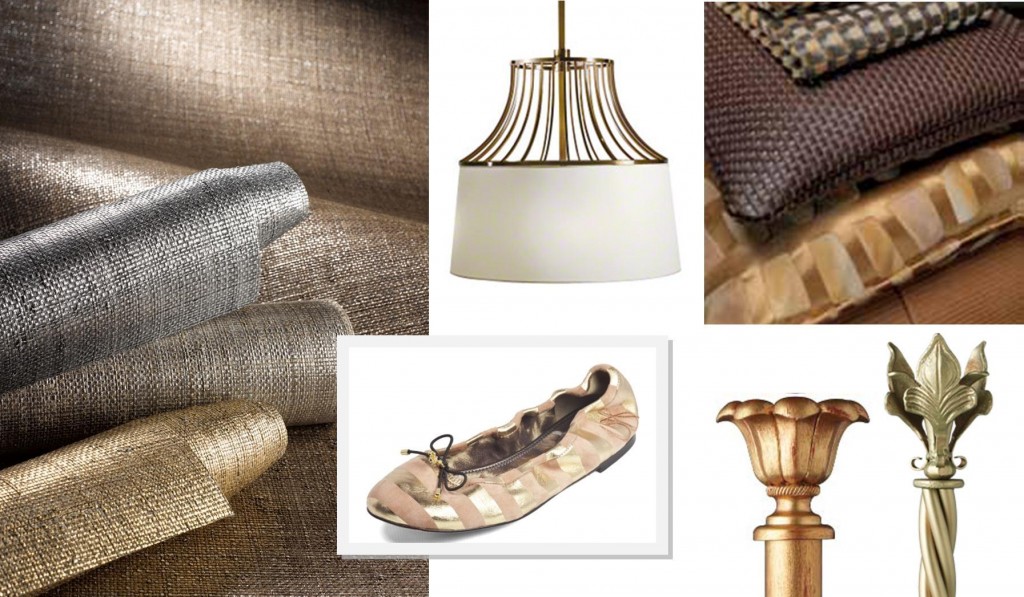 GOOD AS GOLD
Max's Metallic Raffia wallcoverings, Phillip Jeffries. Dressmaker's Chandelier in Bronze, Baker Furniture. Chokoza Collection of metallic weaves, Carlucci. SF238 in Platinum from the Botanical Collection, The Finial Company. F138-63 in Gilded Red, The Finial Company. A personal favorite, the classic Felicia ballet flat by Sam Edelman comes in a rainbow of colors.

TRUE BLUE
Silverly in Blue, Jane Churchill. Zephyr wallcovering, Omexco. Matilde Embroidered Border, Samuel & Sons Passementerie. Cressida in Aqua, Colefax and Fowler.  1930's Beach Hut Curved Bombe Chest, Grange. Indigo Uber Clutch, Gigi New York.

JEWEL TONES
Kabuki Collection, Villa Romo. Charleston Slipper Chair, Charlotte Moss for Century Furniture. Bouquet Spring area rug, Tufenkian. Florentine in Sorbet, Clarke & Clarke. Dynastie, Carlucci.

GOING GREEN
Sven Dining Chair, Dwell Studio for Precedent.  Malakos fabric in Malachite, Robert Allen. Normandy Silk Handwoven Braid in Endive, Samuel & Sons Passementerie. Venetian Glass Earrings, Elizabeth Locke. Sophie, Edouard and Rosita, Soleil Bleu. Fushun Bunching Cocktail Table, Century Furniture.

For more information on the products seen above, contact your local showroom.
Until next time…
Emily
Latest posts by Emily Faber
(see all)