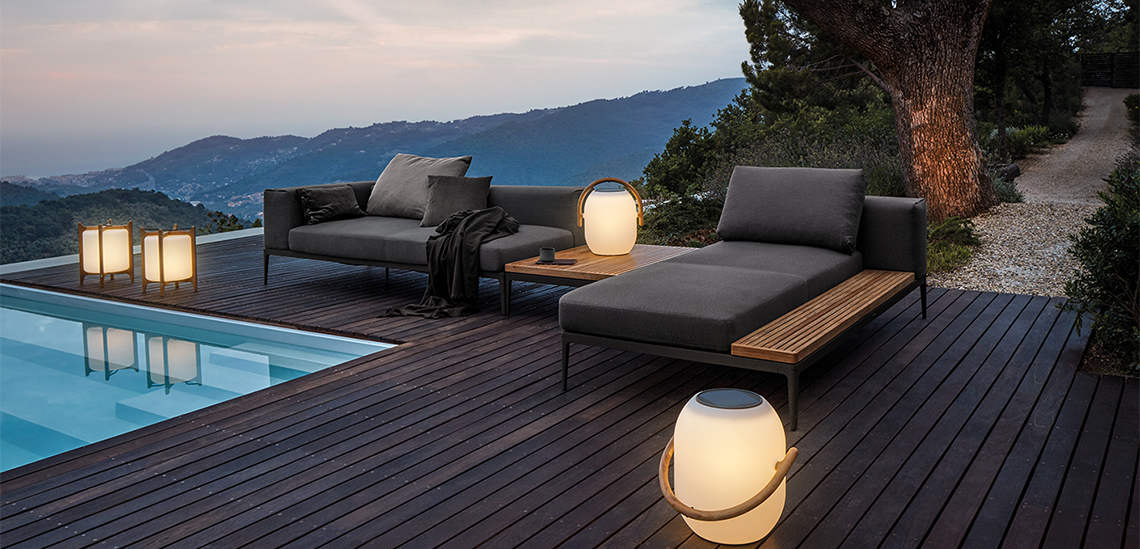 June 7, 2019
April showers promise more than May flowers. They tell us that summer days and nights spent outdoors are coming fast, which means the time to start planning your personal paradise is now. Just like we saw back in 2016, we've imagined outdoor spaces two ways: Bold + Bright and classic Black + White. Below we've provided furniture and fabric pieces from Tommy Bahama Outdoor, Gloster, Brown Jordan, Century Furniture, Manuel Canovas, Zinc Textile and Samuel and Sons.
Black + White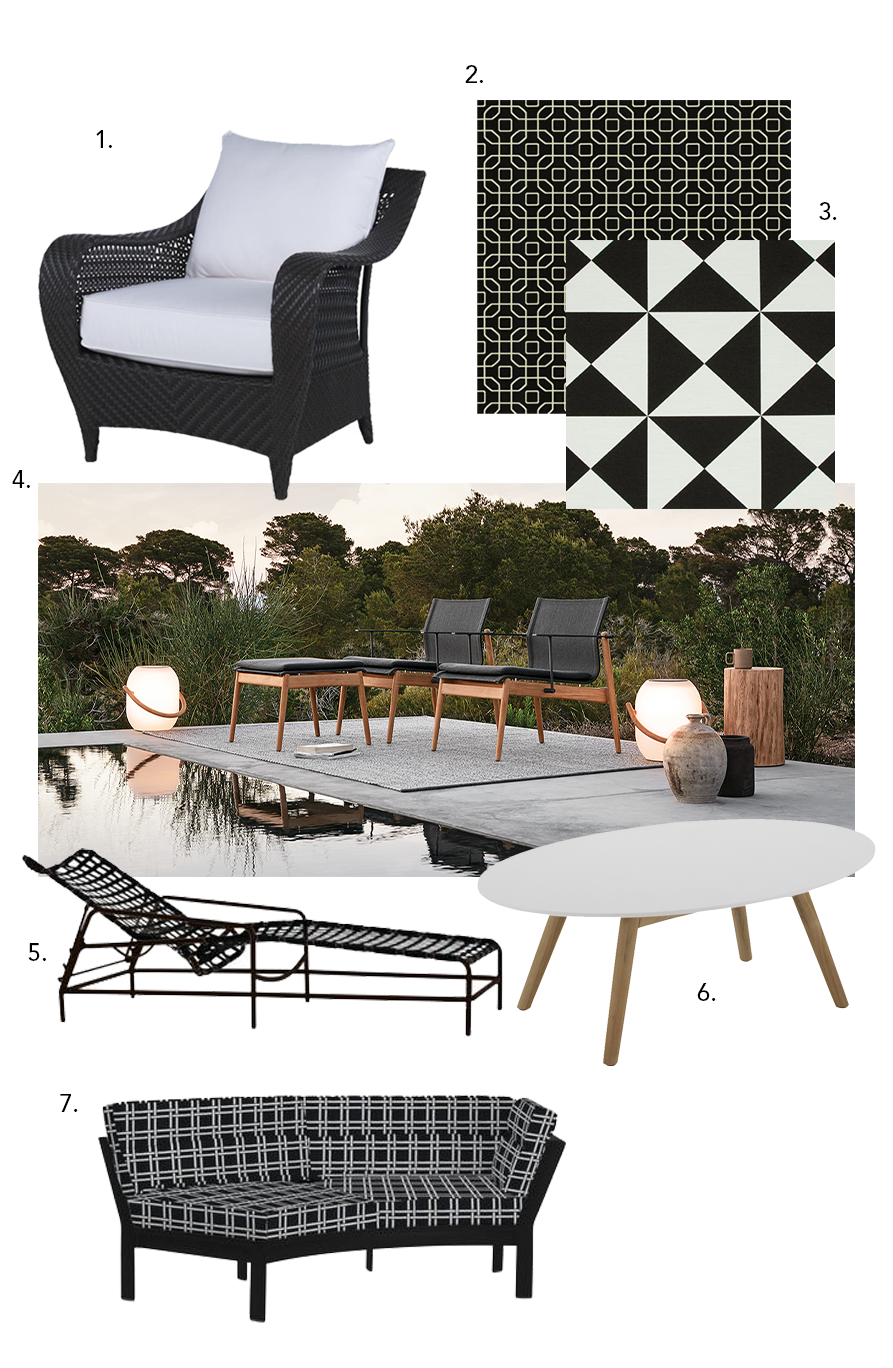 BLACK + WHITE
1. Palm Beach Lounge Chair, Century Furniture
2. Champleve – Black Ink, Kravet
3. Cabana Bar – Caviar, Robert Allen
4. Sway Lounge Chair, Gloster
5. Kantan Aluminum Vinyl Adjustable Chaise, Brown Jordan
6. Dansk Coffee Table Acrylic Stone, Gloster
7. Parkway Curvilinear Center Module, Brown Jordan
BOLD + BRIGHT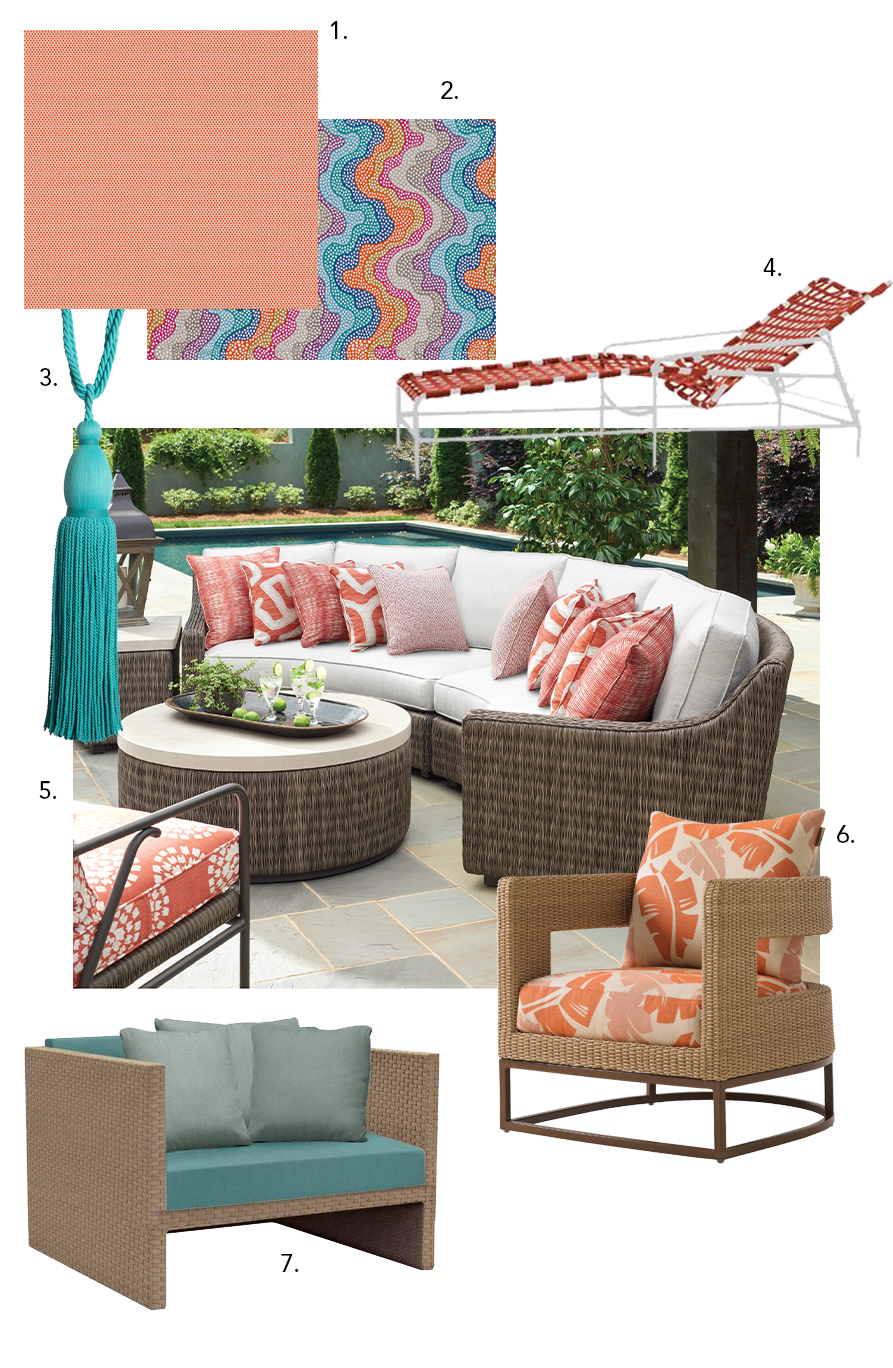 BOLD + BRIGHT
1. Lipari – Orange, Manuel Canovas
2. Loco Rainbow, Zinc Textile
3. Saisons Tassel Tieback, Samuel and Sons
4. Kantan Aluminum Suncloth Adjustable Chaise, Brown Jordan
5. Cypress Point Ocean Terrace, Tommy Bahama Outdoor
6. Aviano Chair, Tommy Bahama Outdoor
7. Elements Club Chair, Brown Jordan
At KDR Designer Showrooms, our mission is to deliver the world of interiors to the doorsteps of interior designers, architects and  homeowners. Keeping your standards and style in mind, we've carefully selected the finest design resources from our collection of lines ranging from renowned, iconic brands to small, artisan-run companies.
This post has been modified by Andrea Krumm, Marketing Assistant, to bring you the very latest and best in interior design resources. The article was published on May 31, 2016, and updated on June 7, 2019.
Andrea Krumm is marketing professional specializing in social media with a passion for home interiors and design.
Latest posts by Emily Faber
(see all)