July 26, 2013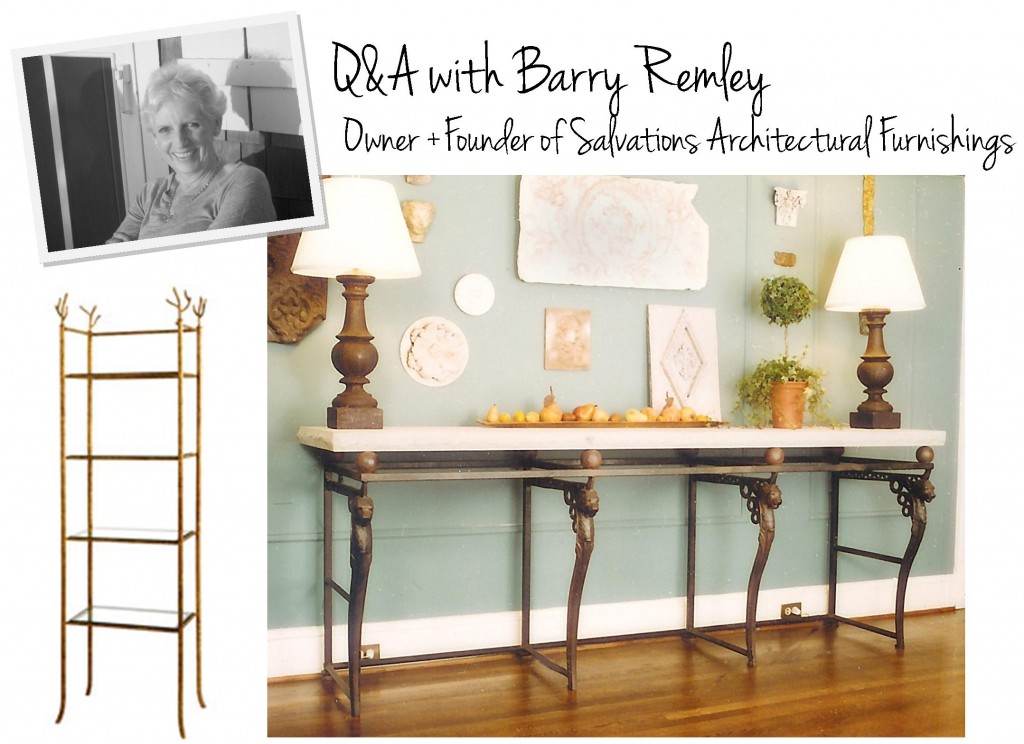 Through a series of recent e-mail chats, I've had the pleasure of getting to know the very lovely Barry Remley, owner and founder of Salvations Architectural Furnishings. Her line is fairly new to KDR; you've likely seen her pieces on display in our showrooms. She was kind enough to share how she got her start, a bit of family history, valuable lessons learned and what inspires her designs.
One of Barry's earliest and most-treasured memories took place at her grandfather's side in his workshop as he crafted a wooden bowl, a gift carved with both of their initials that remains at her side today. Cradling a small collection of her favorite stones, the bowl serves as a beautiful reminder of the value of craftsmanship.
Q: Your grandfather was very influential in your life. What were some of his greatest attributes and memories of him that stay with you to this day?
A: He was something of a Renaissance man. Born in the late 1880s, he was a graduate from Vanderbilt Medical School and served as a doctor in France in WWI. He was the first pathologist in Kentucky and a naturalist who loved taking us to his favorite woodland haunts outside of Lexington. He was a wood worker by avocation. I think we all got his sense of humour and I know he is responsible for my lifelong love or rocks, nature, working in the garden, and hiking in the woods.
Q: Tell me a bit about how you got your start; what made you take the leap?

A:My husband started his own business in the mid 1980s; he wanted "interesting furniture" in his office, not typical "office furniture." We had both always loved antique architectural elements and a friend had just opened a shop selling architectural salvage in Washington, DC—a wealth of historically valuable and artistically interesting/beautiful (hard to replicate) materials which were being torn out of many old buildings in Washington at that time. So together with my friend, interior designer Jo Coveny, we decided to create his furniture from salvage (see below). Soon after, my youngest son was off to elementary school and I decided to turn it into a business.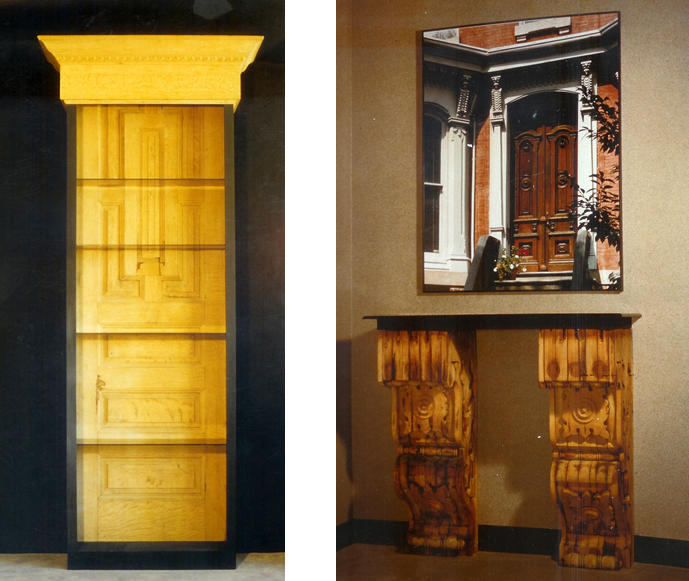 Her first project, in the mid-80's, used wood casing from a convent, doors, scroll brackets and ceiling molding to create an étagère (above), conference table, occasional tables and a console (above).

Q: What are some of the greatest lessons you've learned as a business owner?

A: Whenever I am asked this the first thing that comes to mind–is this–how fast time goes by and how important is each and every connection we make as business owners.  I am still working with the same glass company, the first blacksmith, most of the first iron suppliers, the earliest delivery company and many of the first designers that I started out with in 1986. Little did I know when we were all just beginning how important these relationships would become, how much we would all rely on each other and come to each other's rescue in times of need.
Q: Your work has made its way to 50 countries around the world, how did you gain international recognition?
A: Our long history of designing for the American State Department is something I'm most proud of; their design office is in Washington and I have worked with their designers for many years. I'm proud of the fact that Salvations tables are in American embassy residences worldwide—on every continent. All of the tables with geographic place names were first designed for residences in the named city/country.
Q: You work frequently with designers to create custom pieces, like the one seen below. Using it as an example, would you mind sharing the story of how this beautiful, custom piece came to be.
A: A designer client requested an elegant entry hall mirror and console that had to be beautiful and functional and fit into a tight space to provide hanging space for coats in her client's historic Georgetown home that had no front closet. The architectural element (the tall frame) is an elevator panel from the Plaza Hotel in New York.  The building was renovated in the 80's. In the 60's the movie North By Northwest had been filmed in the hotel and in the movie you see this panel! I incorporated a small demilune console with distressed mirror tabletop and lower shelf; the mirror in the elevator panel is distressed mirror; the balls/knobs allow hanging of coats and misc. The result: eight feet tall; only 12 inches deep and 48 inches wide.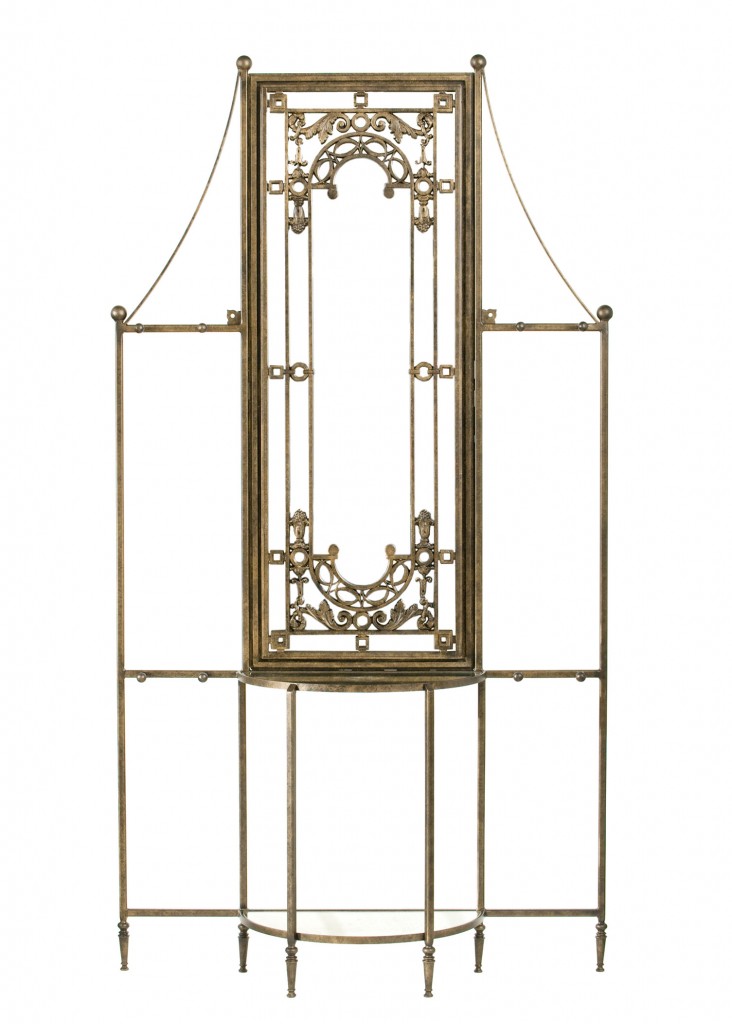 This custom creation used an elevator panel from the Plaza Hotel in New York City.

Q: Can you share a few new pieces, as well as some of your best sellers?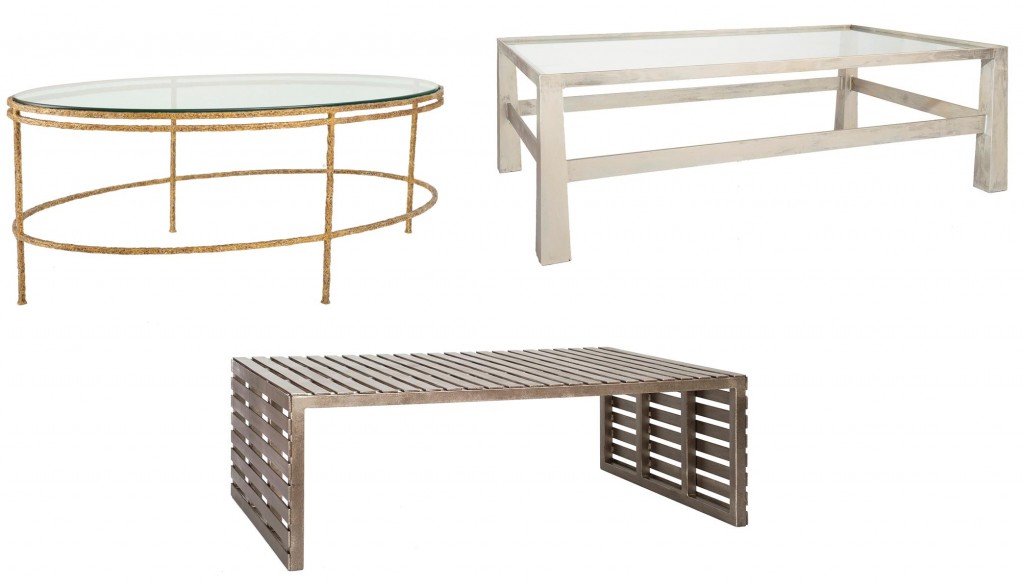 Recent introductions include the Rock Creek oval coffee table, Phoenix coffee table, Acadia coffee table.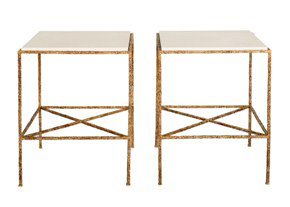 Also new to Salvations, the Judith occasional table.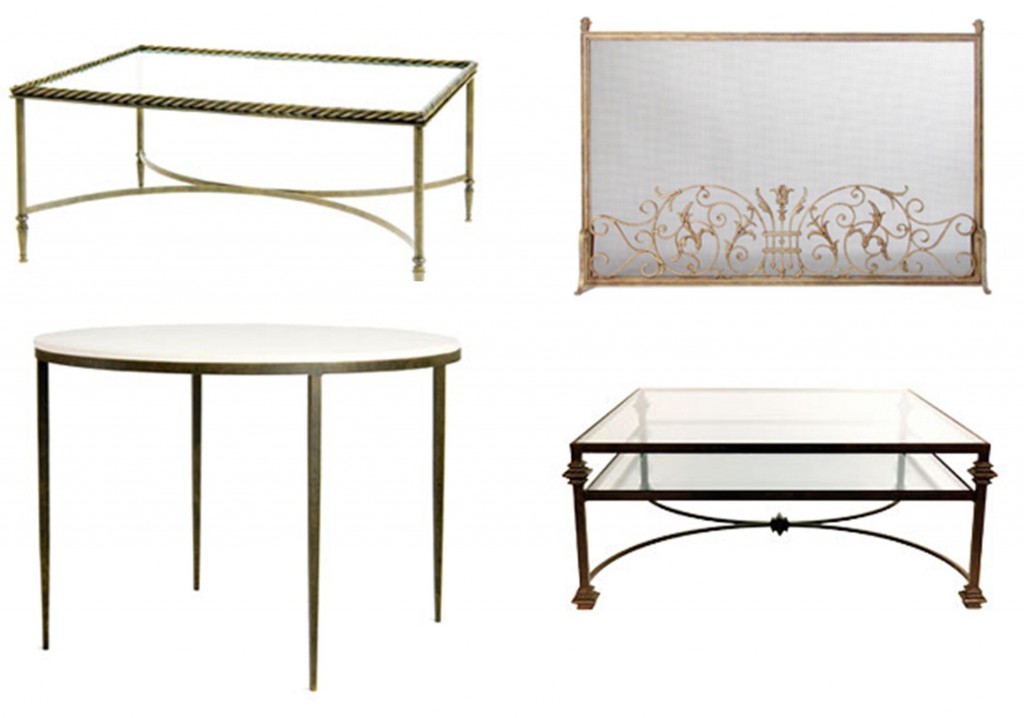 Longtime best sellers include (clockwise from top left) the Rope Table, Artifacts Firescreen (each one is different and  incorporates French balcony fronts), Square Collar two-tier coffee table and Burchard dining table.
When she's not busy in her studio, Barry enjoys playing tennis several time a week, gardening in the backyard of her Maryland home and spending time with her three adorable grandchildren. I hope you've enjoyed meeting Barry via blog post. Personally, I'm quite sure we would become fast friends given different geographic circumstances. Make sure to check out her latest creations online as well as the new shipments that have just arrived in all three KDR showrooms.
Until next time…
Emily
Latest posts by Emily Faber
(see all)