February 13, 2014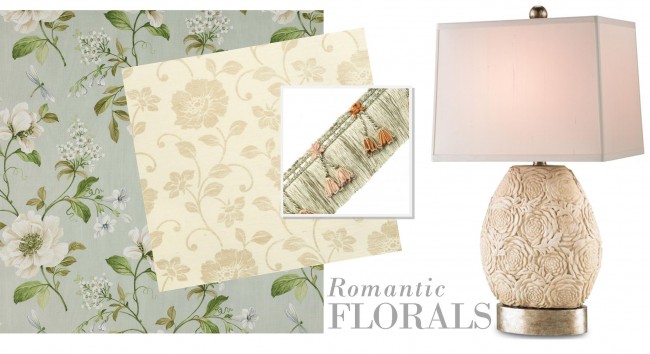 From left: Evesham in Old Blue, Colefax and Fowler. Astoria Floral natural wallcovering, Phillip Jeffries.
Tuileries Silk Fringe with Flowers, Samuel & Sons Passementerie. Rosie Table Lamp, Currey & Company.
For one short, sweet-filled week of the year we celebrate love and romance, and personally, I can't get enough of the pink and the red of it all. If you're like me, you'll delight in a sugar and heart-filled Pinterest feed. This week you might receive something that sparkles or a simple, yet thoughtful gift of your favorite flowers.
Often given as a gesture of affection, the beauty, color and fragrance of florals have been associated with love dating as far back as the Bible. During the Victorian Era, floriography was at its height. Countless books were published assigning meanings to flowers and their colors, offering a new language for communicating one's feelings. As someone who appreciates the past more than most, and a romantic at heart, I find decoding a message in bloom a lovely thought.
This Valentine's Day, according to one source at least, I'll wish for camellias or tulips. And hope to steer clear of marigolds and begonias!
Surround yourself in romantic florals all year long with furniture, fabric and accessories from KDR Designer Showrooms.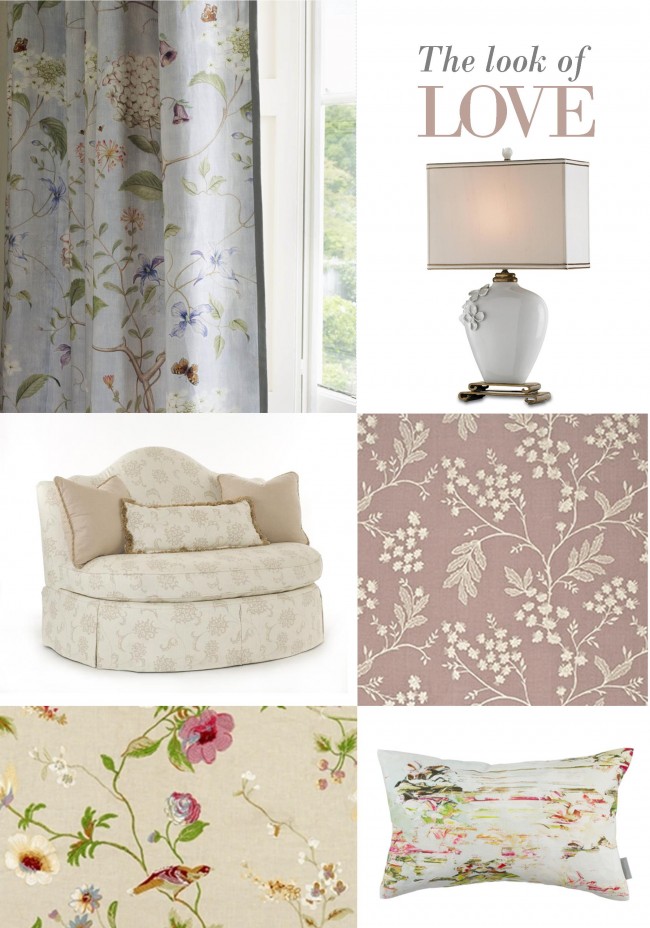 Row 1: Haslemere in Old Blue, Colefax and Fowler. Minuet Table Lamp, Currey and Company.
Row 2: Eleanor Settee, Century Furniture. Oleander Linen in Mauve, Lee Jofa.
Row 3: Meadowood Alabaster, Lee Jofa. Pleasure Gardens Cushion, the Jessica Zoob Collection for Romo Black Edition.
Photo Credits: Cowtan & Tout/Colefax and Fowler, Kravet/Lee Jofa, Currey and Company, Romo, Century Furniture, Samuel & Sons Passementerie, Phillip Jeffries.
Until next time…
Emily
Latest posts by Emily Faber
(see all)