April 13, 2020
In the time of social distancing, all of us are learning to redefine the ways we connect and conduct business. For many, video conferencing has become the go-to for face-to-face interactions during the Coronavirus pandemic. If you haven't discovered the fun and easy way to instantly transform your interior environment using Zoom backgrounds, then continue reading. Elevate your next video meeting with the inspiring interior scenes from KDR. Instantly download the KDR backgrounds for Zoom.
How to Upload a Custom Background in Zoom
Download the Zoom app for Mac or Windows
Open the app and sign in
Click your profile picture, and head to settings
In the left menu bar, click on the Virtual Background tab, and upload your own image.
To add your own image or video, click the + icon to upload from your computer.
Select your image and enjoy!
Whether you're hosting a client presentation or connecting with friends for a happy hour, do it style with KDR virtual backgrounds for Zoom.
Maximalist Mindset
The Pearwood Collection celebrates Cole & Son's rich design history, paying homage to its extensive block print archive and the print techniques pioneered by the design house throughout its vibrant history.
Mad Men Meets Modern Living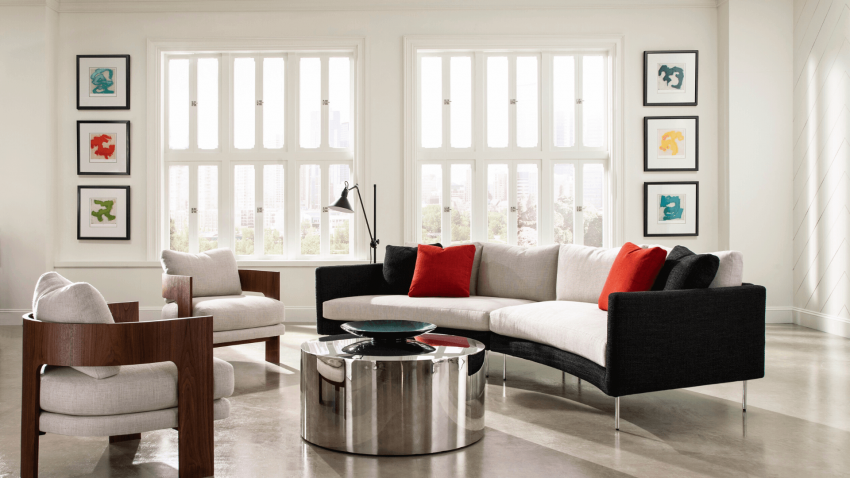 Milo Baughman (1923-2003) was a pioneer in modern design and one of the leading modern furniture designers of the second half of the 20th century. From 1953 to 2003, Thayer Coggin and Milo Baughman collaborated on designs, engineering and manufacturing techniques that came to define the mid-century modern era of American residential furniture.
Garden of Colorful Delights
Pantelleria, Italy's elemental island, plays host to this audacious yet sophisticated communion of statement patterns by Zinc Textile, rich textures and vivid colors, that offer an incredible assortment of refreshing designs for the brave and the bold. The island's windswept shores and sand colored buildings provide the perfect backdrop for this collection of decorative prints.
Scents of Spring
Etamine sketches out colorful spaces imbued with the scents of summer. These fourteen fabrics convey the spirit and the savoir-faire of their artisan weavers. The fabrics are bedecked with Mediterranean gardens and wreaths of flowers embroidered in wool, summer bouquets printed on linen and tweeds woven by hand.
Tranquil Tone
This celestial collection of embroidered, laser-cut, hand-beaded and applique borders emerged from the artistic collaboration of the Samuel & Sons Design Studio and a group of distinctive artisans. Intrigued by the landscape of the night sky, the Samuel & Sons Design Studio set out to explore unique materials reminiscent of otherworldly luminosity.
Southern Charm + European Sensibility
Suzanne Kasler's Paris Collection for Hickory Chair was inspired by pieces she has collected over the years. The collection is a sophisticated blend of intricately detailed, hand-crafted wood products and tailored upholstery.
Neutral Territory
The legacy of hand-weaving wicker basketry and furnishings dates back to the ancient Mesopotamia. Inspired by this tradition, the Wicker Series by Hartmann&Forbes offers a superior balance of woven textures and natural hues for your windowcoverings.
---
Although many states in the U.S. and other countries are under stay-at-home and quarantine orders, KDR and our trusted vendors are operational as follows.
As an alternative to visiting your local KDR Designer Showrooms, there are many ways to reach us. Our wonderful sales associates in fabric, wallcovering, furniture, drapery hardware and shades are available by email, phone, text and video chat via Zoom if you need assistance. Please see our team directory. Our experts are excellent in specifying and selecting product for all your design projects.
All three KDR showrooms will be operating with our remote staff; our warehouse in St. Louis continues to be operational for receiving and shipping of drapery hardware and our designated receivers in Kansas City and Minneapolis continue to receive shipments. Our showrooms are open by appointment only. Contact us to schedule an appointment.