Important Announcements
Thank you! We need each other!
On behalf of the entire KDR family, we are grateful for your continued support during this difficult time. We have been surprisingly successful in continuing to do business by making fast decisions to transition to our excellent remote capabilities. Our customers are continuing to source products for their projects and we are so grateful that their orders continue to come in! Continuation of business is important for all of us.
As cities, counties and countries continue to impose Stay-At-Home restrictions and closings of non-essential businesses, we are seeing many of our suppliers closing down for 1 – 2 week stints.
Because it is changing every day, please know at KDR, our people are updating all information as it becomes available and is reflected in your order status on the KDR Trade Portal or on our agent vendors websites where you have your own accounts.
All three of our showrooms are continuing to accept shipments, so as not to disturb the flow of goods. They will accumulate at our receivers or the KDR warehouse in St Louis and will get delivered ASAP, once restrictions begin to ease.
Stay healthy, stay safe and remain optimistic!
SHOWROOM ACCESS FROM HOME
As an alternative to visiting your local KDR Designer Showrooms, there are many ways to reach us. Our wonderful sales associates in fabric, wallcovering, furniture, drapery hardware and shades are available by email, phone, text and video chat if you need assistance. Please see our team directory. Our experts are excellent in specifying and selecting product for all your design projects.
OUR SHOWROOMS
All three KDR showrooms will be operating with our remote staff; our warehouse in St. Louis continues to be operational for receiving and shipping of drapery hardware and our designated receivers in Kanas City and Minneapolis continue to receive shipments. Contact us.
CUSTOMER SERVICE & SAMPLING
Members of our staff will be working remotely and can provide you memo samples, tear sheets, pricing and product availability, they can also help you navigate our vendors' websites. Please note: To reach a sales member directly by phone, text (new) or email, please reference the team directory for contact information. The numbers shown are direct dial numbers that will ring through to mobile phones for our people working remotely, and you may also text to these numbers as well!
IMPORTANT: The KDR Trade Portal is an excellent tool to not only manage your KDR business but also to directly connect with our agent vendors, if you have not registered, this is the perfect time to begin. kdrshowrooms.com/trade-portal/register
---
KDR's Agent Vendor List:
Cowtan & Tout
Duralee
Edelman Leather
Glant
Hartmann&Forbes
JAB
Kravet
Maxwell Fabrics
Norbar Fabrics
Phillip Jeffries
Robert Allen
Romo
Samuel & Sons
Zimmer + Rohde
---
Here is a preview of what the menu of your direct accounts looks like.
Please note: You must have a direct account with our agent vendors to use this feature, (we can set you up with a direct account with any of these agent vendors if you wish) which will take you directly to their website where you can order memos, CFAs, check stock, do reserves and places orders! KDR will still receive credit for the sale, or of course, we are happy to provide all of those services for you.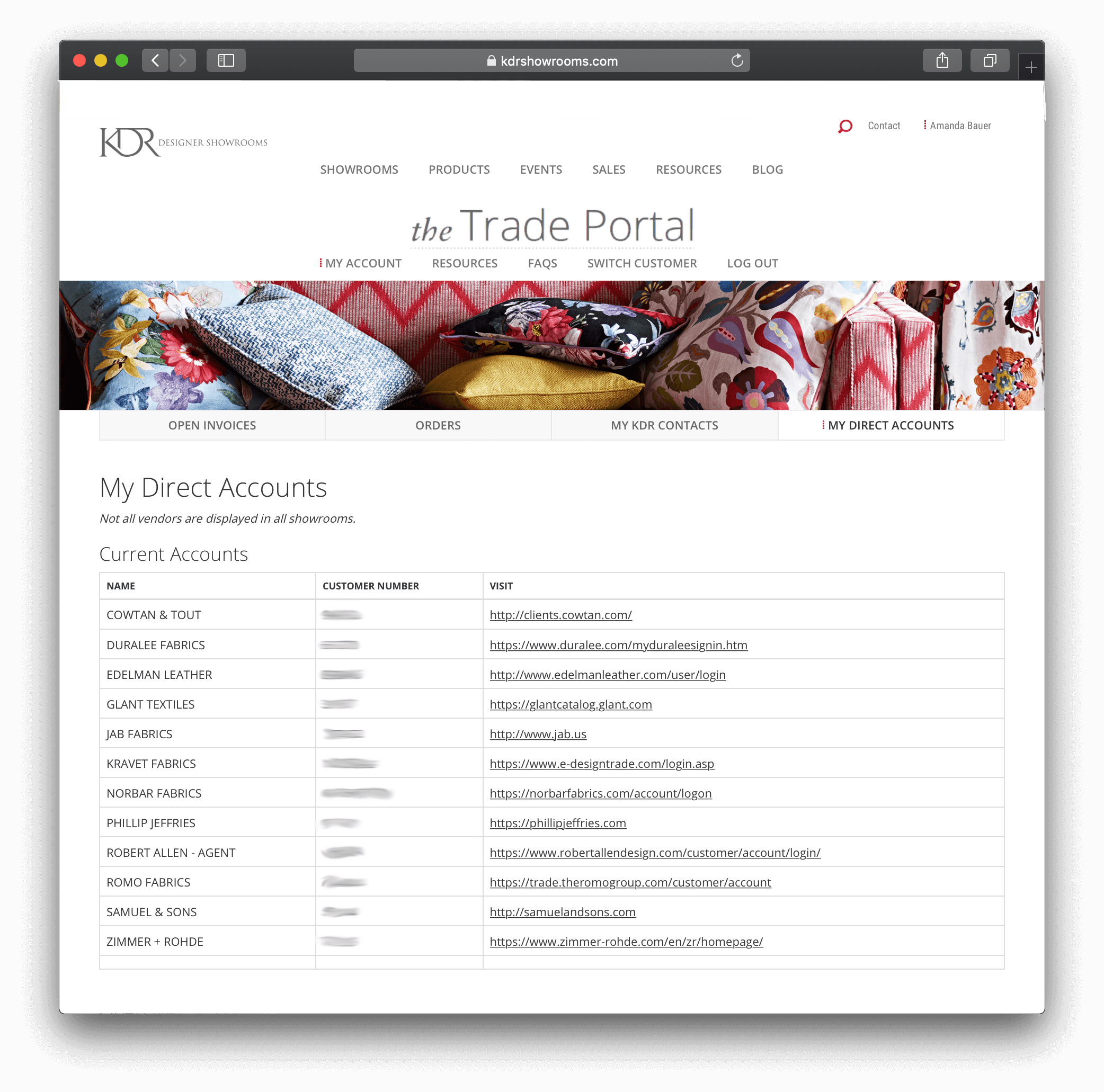 VIRTUAL PRESENTATIONS
If you are working from home, our sales staff are available for video or web-based presentations – please contact us to set up your virtual showing.
My days have been filled with conversations with vendors, service providers, customers, employees and many others, and my advice has been consistent, stay positive, appreciative, generous and kind and together we will all pull through this even stronger. On behalf of all of us at KDR, we pray for your health, safety and sanity during these unprecedented times. Please do not hesitate to reach out to me directly if I can assist you with anything.
Very truly yours,
Kevin Kenney
President/CEO